Press in English
Addis Tribune (november 94)
Addis Tribune (september 95)
Equinox - Canada (june 97)
Selamta/Ethiopian Air lines (june97)
---
Addis tribune
(18/11/1994)
«A place to feel free»
(By Haimanot Getchun)
For the circus built on a hill, surrounded by trees and fenced on its front side, it's the early morning sun that first reveals that something special is happening there. Inside, the Circus Ethiopia Training - Center, the compound's center is linked by adjacent rooms layed out like boxes. In the big room, as it is called by the youngsters who train there, four steel pillars braced from the ceiling to the floor dominate the room's center.

And it is from these rigid columns that the boys and girls begin their warm-up routines, swinging and twirling from the gymnastic rings, each time more rapidly and with greater skill, ending the sessions by jumping off, softly on both feet, without losing their balance. All around them equipment needed for other routines wait stacked neatly along the entire perimeter of the room. On the left side of the room is the small stage used for juggling routines. On the right, the trampoline and uni-cycle wait for the young atheletes, who take turns mounting it.
The room is crowded , filled with good postured boys and girls, most of them dressed in shorts and tights, ready to perform. One boy jumps as high as he can. A girl on the floor spreads her legs as wide as possible, searching for her best stretch. Rythmic dancing routines dominate the attention of other youngsters, none of whom depend on mirrors to measure the grace or impact of their movements. Located at Lamberet Quarter, just on the opposite side of the Mobil station, Circus Ethiopia was founded by a Canadian teacher, three years ago.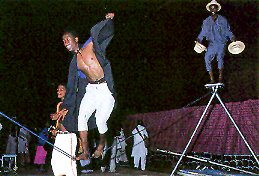 «I always met children in the street asking for money. But I was not interested in giving money to them" said Marc La Chance, who works by day at the International Community School. Rather, 1 thought, why not organize them into a constructive project. "Circus Ethiopia, begun with ten Felasha children trying to juggle 3 balls» has grown to 40 children with expanded rou tines. Today they juggle fire not just balls, and the older children balance smaller ones on top of long poles. They pride themselves in doing most anything expected of a professional troupe, from tight rope walking to sophisticated acrobatics.
"In our country no attempt is made to entertain children. Circus Ethiopia entertains them and lets them know what a circus is" said the head trainer, Yared Eshetu.
"Besides, it makes our performers think about being organized. It makes them think about the importance of doing something worth while for themselves and for Ethiopia" Yared said.
The circus gives the performers individual skill in gymnastics and as an added benefit it introduces circus acts to the country, with no tradition is thés entertainment form. Many Ethiopians think that a circus is something that can only happen abroad. "So it was unbelievable, for many people, to see Ethiopian kids juggling, passing fire, and doing knife routines" Yared said.
For children like Enguday Bekele, 14, originally from Jimma, gymnastics has become more than just a way to stay slim. "It makes me feel free and happy". Getting to the circus is not an obstacle no matterhow far it is from home. The star performer of the circus, Abiy Hailemariam, 17, travers everyday from Asko Medhanealem. "I can do it," he said, "the travel and the most difficult routines."
---
Addis Tribune
(08/09/1995)
"Circus Spectacular for Red Cross 60 th"
(By Our Staff reporter)
Circus Ethiopia gave a perfomance in celebration of the 60th anniversary of the Ethiopian Red Cross Society (ERCS). The show, held at the National Theatre, was called "Shoe Shiner" - a story about street children and their struggle to survive on the streets of Addis Ababa.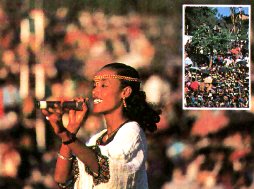 The evening began with presentations to members of ERCS. Then followed short speeches by the Dep. Head and Head of ICRC and the First Secretary of the Swedish Embassy which sponsored the event.
The founder and director of Circus Ethiopia, Mr. Marc Lachance, gave a more detailed perspective to the purpose of the group. He recailed that in 1991 , while cycling to and from his job as a teacher, he encountered street kids and beggars close up, ("you can't roll your window up on a bicycle"). He decided not to give a salary for begging but to do something more permanent. So, with a car stereo and 700 juggling, tightrope-walking and acrobatic children, Circus Ethiopia was born.
The performance, "Shoe Shiner", is really about all the aspects of being on the street. Hunger, cold, loneliness, violence, rape and death were all confronted by Abate Mekuria, playwright, music and direction. The evening swang from dazzling displays of acrobatics and other circus acts to poignant dance pieces which portrayed the harsh reality of the theme of the play. The "Shoe Shiner" is the result of 3 months work and this group have performed over 200 times in the last four years including a tour in HoIland where they were shown on television to an audience of over one million people. They are now embarking on a 35-date tour all round the country.
The circus worked in collaboration with "Theatre in Development," a project which endeavors to nurture artistic expression and self-esteem among disadvantaged children. This, coupled with the Red Cross' continuing commitment to "meet the needs of the most vulnerable," made this a truly world-class evening.
---
Equinox - Canada
(june 97)
"The World is a circus.
A flash of Canadian intuition gives birth to a
big top that makes Ethiopia's children walk tall"
(Article by Robert Semeniuk)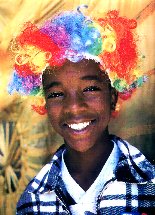 At the end of a rough road up a hill on the edge of Addis Ababa, surrounded by a fence made of corrugated-métal sheets, are the administrative offices of Circus in Ethiopia, recently relocated from La Chance's house. I let myself in through the sheet-meta1 gate by slipping a looped string off a nail. Behind a small grass hut is a one-room cookhoust with a long washing stand and water taps in front. I meet Sister, a friendly middle aged woman who is in charge of the kitchen, supplies and buying food for hundreds of meals each week. She is also the one the children go to with any minor medical problems. Next to the cookhouse is a small four-room office made of straw, mud, and concrete and barely covered with faded yellow paint. It is afternoon, and more than a dozen children are inside in the largest roam, sitting at three tables and doing homework, guided by tutor hired by the circus. In the next room are boxes, suitcases, and racks of costumes. In two other smaller rooms, people are busy typing information into three computers. One of the typists is Socina Tewabe, I8, a three-year veteran of thc circus. She has fiery eyes and feline features. "The circus is my dream come true," - she says. "It's my life and family. If I do not continue as a professional circus artist, then I would like to be a trainer or help with the circus in soma other - way." All members of the main troupe are unpaid, but they are fed at the compound and receive money (less than one pound) to cover their transportation cost to mandatory training sessions every afternoon, including Sundays, when regular free performances are held. Students of the circus school pay 1,5 pound a month tuition. Outside the gate and farther up the hill, next to an open field with grazing cows and goats, is a gymnasium-sized training hall that the circus rents.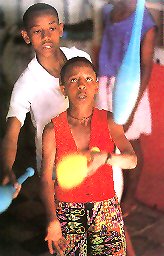 Approaching the building I can pick up the sliding quarter notes of Ethiopian music and loud African percussion. Inside at one end is the bandstand stacked with speakers, cords, and sound equipment. The band has a musical director, keyboard player, drummer, four singers, and four musicians who play traditional Ethiopian stringed instrument, including a misinko, which has a single string and is played with a bow. A young musician shows me his makeshift imtrument, made from a tin can that he played on the street before coming to the circus. On one wall hang half e dozen unicycles; nearby are boxes of ropes, juggling pins and balls, and other circus gear. On another are pinned scores of photographs, newspaper clippings, and magazine stories recounting Circus in Ethiopia's success To speak of Ethiopia and success in one breath may seem odd to westerners, but the fact is that I can see only hope and pride in in the eyes of the young circus performers.
---
Selamta / Ethiopian Air lines
(june97)
Traditional circus still finds fertile ground in Ethiopia, launching a new generation on a creative adventure that combines education entertainment and acrobatics .David Beatty reports on a unique project that has brought hope to many of Ethiopia's children. Before 1990 there was no such thing as circus in Ethiopia, and few people could even begin to understand what was meant by the word.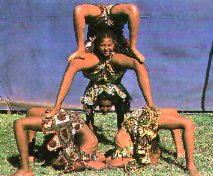 When Marc La Chance, the Director General and Founder of Circus in Ethiopia, arrived in Addis Ababa from Canada in 1990 to teach at the International Community School, he had no idea that he was about to initiate a unique cultural event. Yet seven years later he finds himself heading a non-profit organization that has spread its roots throughout the length and breadth of Ethiopia. It has inspired hundreds of children in an explosion of creativity that has surpassed his wildest dreams.
By teaching a few children to juggle stones in his neighbourhood, Marc sowed the seeds of an idea of the circus. The concept has spread with suche nthusiasm that there are now six circuses from different parts of the country, each with its own unique identity. From small beginnings the idea of a circus has evolved into a pyramid of activity. The circus has tapped sources of creativity and developed skills in Ethiopia's children. For these children self-expression is a new concept, and a luxury in a country recovering from years of war and famine.
In other words the circus in Ethiopia is a small African marvel that has become a big topic of discussion. In the con text of Ethiopia, the circus has come to mean far more than its European counterpart - which is a traditional side-show of animal trainers, clowns and high-wire acts. In Ethiopia it is an event whose implications are fareaching.
---