Everything began in a small way in 1991.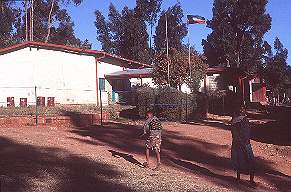 Marc La Chance, a Canadian teacher at the international school in Addis Ababa, started things off. He organised a short circus program with children for a celebration held by the EthiopianJewish community. At that time he has no idea of what would come out of this. Most of Marc's group left shortly after the first performance when a change of government in May 1991 prompted the exodus of the Ethiopian Jews community (Falashas) to Israel.


But two months later, another project was born. Some children who had seen the first group rehearse asked to be given an opportunity! They juggled with stones and had the determination and energy to produce something big. Marc encouraged them in their training. A group of young sportsmen heard about the circus, this new and little known form of culture in Ethiopia. The Circus and the sportsmen merged and Circus Ethiopia was born!

One of them, Aweke Emiru is now the Director of Circus in Ethiopia and the Director of Circus Ethiopia in Addis Ababa.