The 16th January is beginning of the new school year, after a whole month of school holidays. And yes, here in the Southern Hemisphere the midday sun is in the North. People tend to wake up very early, around 5:30 and go looking for wood (from under the surrounding trees) to make a fire to make breakfast. Afterwards, they sweep their home to get rid of the dust that has settled during the night. The broom they use is made of bundles of hay that have been stitched together and it is about 50 cm long. Martin and Ayse are using this broom during the rehearsals and with the children are finding many unusual ways of using it.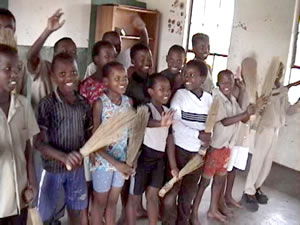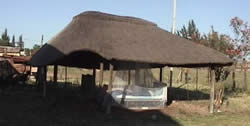 Luc has decided to sleep outside underneath a mosquito net that is suspended from the beams underneath the thatched roof of his shelter. Some of us use earplugs at night. Why, you may ask, do you need earplugs in the countryside? Well, because towards dawn at around 3 am there is an orchestra of dogs and cockerels. A little early! Nightfall is around 7 p.m. and usually the moon is very bright. On Thursday there was a lunar eclipse when the earth slides in between the moon and the sun. It was very strange, almost as if the blackness of the night was swallowing up the moonlight.
Everyone is taking advantage of this last week of holiday, and young and old alike are partying in our neighbourhood, Jamaica, which is good and noisy tonight. We have just been to a coming out ceremony for a young woman who has just finished her initiation. After this party girls are considered to have become women. Slowly but surely we have settled into our house, everyone has found it very comfortable. At the moment the only problems arise when there is a water stoppage which does happen from time to time. Everyone seems to have a healthy appetite and the team is acclimatising into the Mahbogo lifestyle rather well.
Some rehearsal notes
The children are working with Ayse and Martin every morning this week before they have to go back to school next week. We are very surprised by the quickness and ability of our performers, and work moves forwards despite our different languages. The children do have huge amounts of energy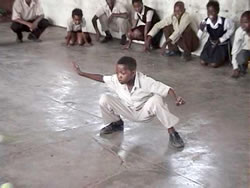 Usually we begin with a half hour warm up and then exchange all sorts of games. Work on the show is centred on daily habits and everyday gestures, and much fun has been had at observing the different ways people sweep, wash and cook here in the village. The company is working together on the first scene of the show, which takes place in an out sized, vertical bed. Ayse and Martin also work together on the choreography inspired by the children's work, they are also preparing two danced duos that they will perform. The broom is an object that will be used repetitively in the show as a recurrent theme, Ayse and Martin use many other every day objects too, such as a cone shaped teapot called a Chu Chu.
Angelina and Tracy are getting to know each other better and are trying out painting together on the same canvases. They are trying to find a way of working together to create something completely new. It is the first time that Angelina has worked on a theatrical set. Luc and Martial who have an overview of their process help the artistic progress of the two painters. They are observing their differences, their similarities and balancing their collaboration with the needs of the show. Angelina thinks the main difference between Tracy and herself is that Tracy trained at a school whereas she learnt her craft at home. She describes painting with Tracy as if she is being given a vision of the inside of a body where as she is painting it's outlines. She enjoys seeing differently.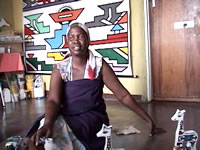 For the past four years Angelina has also worked with children, setting up a painting school in her home. Her students are committed and always give their best. She is concerned about what will happen with the discoveries made during this creative process, once the visiting team has left. This week the two painters have tried every combination of painting together. The result is surprising and even better, is the pleasure taken in redefining their own limits and reassessing their work. Next week they will start to paint the set.
After long discussions on the dramatic elements and the scenic elements, it is important to think about what the environment will communicate to the audience. There are two main ideas. Firstly the stage area will become the courtyard of single house where all the different rooms are linked by the outdoor courtyard or, secondly, like a village square with individual houses in the square. In either version the audience will be surprised to suddenly find itself surrounded by the courtyard and the structures.
| | |
| --- | --- |
| | |
Luc Perrot describes his work "On this project "Wake Up" my job is to invent the environment in which the actors and dancers will perform. I am building some wooden walls that will create the impression of a house and then another and then another…Tracy, a white painter, and Angelina, a black Ndebele painter, are both South African - together they are creating a communal way of working, a new way of drawing. They draw lines on the wooden walls like a huge weaving that little by little reveal shapes, forms, beings allowing the spectator to dream of what they could be."
A little anecdote

On Thursday 11th January a shady tree that we used have our breakfast under was blown over by a sandstorm. No one was hurt, and the cars are intact, every one was very surprised by this wind that seemed to appear out of nowhere. We will certainly miss that shady spot.
Some Useful phrases in Isindebele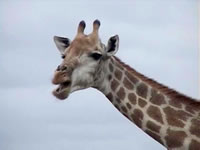 | | |
| --- | --- |
| Nindjani | Hello |
| Yebo | Hi |
| Sikhonandjani | How are you ? |
| Sikhona | Fine |
| Ngilelendjani | Have you slept well ? |
| Ngilele kamnandi | I have slept well |
| Ngiyakulala | I am going to bed ! |
| Ngiyatokhosa | Thank you |
Martial Chazallon, Martin Chaput